Challenge

科順要和總部統一數據,解決與客戶在設計方面的溝通問題。

Solution

About ColsonColson Group is the largest manufacturer and distributor of caster and wheel products in the world O

Results

SOLIDWORKS是一個非常不錯的工具,對於新用戶來說更是易學易用,是我們設計者的好幫手。

About Colson
Colson Group is the largest manufacturer and distributor of caster and wheel products in the world. Over 1,600 global employees support Colson Group's leading product portfolio and proprietary global value chain. World renowned brands, such as Colson, Albion, Shepherd, Jarvis, Rhombus, MedCaster, Revvo, Pemco, Faultless, and Bassick are manufactured and marketed around the world through Colson Group's 25 global facilities – where over 192,000 products are shipped out every day. Leveraging our robust product offering, leading engineering knowledge, proprietary manufacturing footprint, and world-class partnerships – we deliver unparalleled support and value to each customers' unique performance, design, and logistics needs.
Wholly-owned by Colson Group, Colson China has three facilities, which is Colson Caster Guangzhou Ltd., Jarvis Caster Guangzhou Ltd., and Nantong Albion Caster Ltd. Ever since its first establishment in Guangzhou City in 1994, Colson China has been growing fast and continues to expand its sales in US, Europe, Southeast Asia, and China mainland. It has obtained the ISO9001:2000 certificate and its products are conformed to standard such as ICWM, RoHS, and NSF.
-Industrial Parts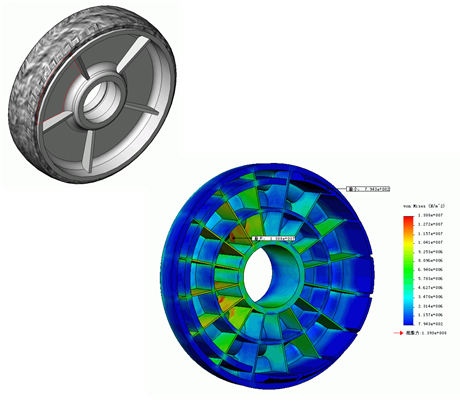 Challenge faced
(1) Unified data with the headquarters;
(2) Communication issues with customers in terms of design.

SOLIDWORKS BENEFITS FOR CUSTOMERS
-Easier to use than ProE and more powerful than Inventor.
- The interface is more user-friendly and the operation is friendly.
Message From Customers
I'm excited to say that our company now uses SOLIDWORKS software! It's a very nice tool. For new users, it is easy to learn and use, and it is a good helper for our designers. ---Colin Engineering Manager